GRAND POWER
FREE CAPACITIES AND CO-OPERATION OFFERS
Barrel and barrel blank production
GRAND POWER s.r.o. is proud to manufacture barrels via button rifling for its own weapons production as well as for third parties as finished barrels as well as barrel blanks. State of the art buttoning technology and machines built specifically for our company, combined with quality 31CrMoV9 steel provide for excellent quality we are known for. Barrels and barrel blanks currently in production in chart below. High-temperature steel H13, especially designed for highly stressed automatic weapons barrels is also available.
CaliberDimensions / Twist rate
.22D25, 620mm / 1:16 1:12
.223 / 5.56 NATOD36, 620mm / 1:7
.308D40, 620mm / 1:10
7,62 (RU)D40, 620mm / 1:10
.380 / 9mm BrowningD25, 620 mm / 1:10
9 LugerD25, 620 mm / 1:10
.50BMGD55, 1 050 mm / 1:15
12,7mm (RU)D55, 1 050 mm / 1:15
Tenifer- QPQ
In 2017, we built our own TenifecQPQproduction line right at our factory, in order to gain maximum control over all aspects of this process to achieve the quality levels our customers expect. Now we use Tenifer-QPQ finish with great success on majority of our parts, such as barrels, slides etc., carbonitride layer gives surfaces excellent corrosion ressistance, wear and tear ressistance, as well as smooth surface that reduces friction between surfaces.
Our Tenifer-QPQ production line allows us to cover our own needs, yet we are still open to any orders of this treatment to third party parts, up to the lenght of 800mm. For detailed information, price offer or orders, please contact us at info@grandpower.eu!
Deep hole drilling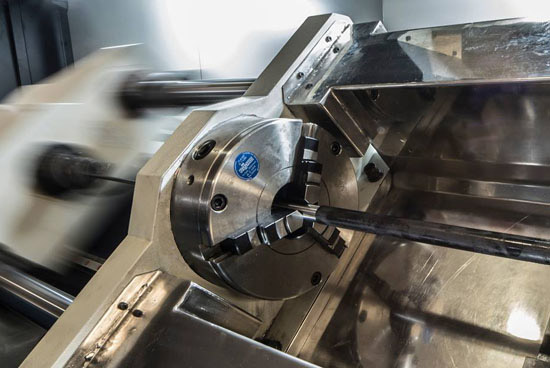 One part of our special barrel prodction line is a depp hole drill, suitable for drilling of precise deep holes up to diameters of 15mm at lenght of 1470mm.